No/low-alcohol beverage sales are surging as the youth-driven trend towards conscious drinking gathers steam. While a beer or premixed drink makes an easy choice for monitoring alcohol consumption, there's no reason cocktails and long drinks can't be part of the mix. Knowing how to measure the alcohol content of a drink you make can broaden your customer options and help inform their choice.
Don't... just add the liquid together and divide it by the average spirit ABV 
No. This would be incorrect.
Why do I need to know how to do this, anyway?
Because people are more conscious about what and how they drink, and this helps them make an informed choice. Because cocktails lower in alcohol (4-7% ABV) are growing in popularity. Because it's a useful tool in any responsible bartender's skillset.
This is going to be hard…
We'll start easy: a dry martini. Now be aware this is a strong drink, but because it contains only two alcohols, it makes for a straightforward example to follow.

So, 60ml Beefeater London Dry Gin and 15ml dry vermouth, stirred with ice until cool, then strained into a chilled cocktail glass, garnished with an olive. First, we identify the alcoholic ingredients...
Easy so far – the 60ml Beefeater London Dry Gin and 15ml dry vermouth.
You can find the amount of alcohol in each drink on the label. This value is usually represented as a percentage or ABV (alcohol by volume).
So for Beefeater London Dry Gin it's 47% ABV; and this dry vermouth is 18% ABV…
Start with the Beefeater. If 60ml is 100% of the gin in the recipe, then how many millilitres equals 47% of the gin? Divide the amount of the drink by 100, then multiply it by the alcohol percentage.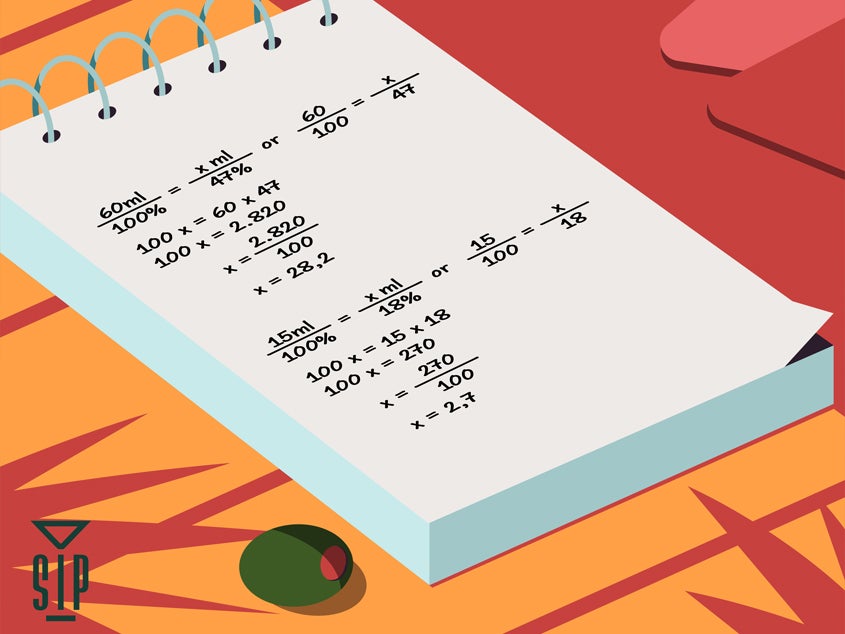 Um, so… 28.2ml! And 15ml of vermouth with 18% alcohol is 2.7ml.
Now we add the ingredients – 60ml of gin (28.2g of alcohol) plus 15ml of vermouth (2.7g of alcohol) is 75ml of cocktail with 30.9g of alcohol. 
But

m

artinis are usually larger than 75ml…?
Right, due to the mixing and cooking, which causes some ice to melt. Let's say, when we've strained this martini, the total volume is 130ml – 60ml of gin + 15ml of vermouth + 55ml melted ice (with 0% ABV). The volume of alcohol is 28.2gr (gin), plus 2.7gr (vermouth) + 0 (water) = 30.9ml. 
OK. So 30.9gr is the total amount of alcohol. How do I work out the percentage?
Simply, you need to divide the total amount of alcohol (30.9gr) by the total volume of alcohol (130gr) and then multiply it by 100: ​​30.9 ÷ 130 × 100 = 23.77gr is the percentage of alcohol in this dry martini. You can round this amount to just one decimal place: 23.7% ABV.
I often add a bit of this and that to my drinks – not full measures. 
Consider each dash measure 1ml and a larger splash can be 5ml.
Anything else to take into account?
Actually, yes. Dilution from ice is something to consider, and varies depending on how furiously you shake or stir. The size of the glass also matters – if you top your cocktail drink with soda in a 240ml highball glass, the ABV will be different to topping a 350ml highball (this article explains it).
I'm terrible at maths. Is there no other way to calculate the ABV? 
Ok ok, since you asked, and now you understand the process, there are several free online calculators, such as this one, which provide an approximate guide to the strength of your drink. (Ed's note: we do not explicitly endorse or guarantee the accuracy of any online tools cited.)
As another useful resource, certain countries such as the United Kingdom have developed low-risk drinking guidelines. These are often publicly available, and well worth a look.
Popular cocktails by ABV...more or less
You may be surprised at the ABV of these popular cocktail recipes from Clube do Barman.

Bloody Mary with Absolut vodka, 8.25% ABV
Gin & Tonic 15.4% ABV ​
Mojito, with Havana Club 3 years (topped with 50ml sparkling water), 16% ABV
Sloe Negroni, with Monkey 47, 23% ABV
Dry Martini with Beefeater Gin 23.7% ABV
Margarita with Olmeca Altos Plata 30% ABV
Whiskey Old Fashioned with Jameson Black Barrel 39% ABV

Find more detailed calculation techniques here.